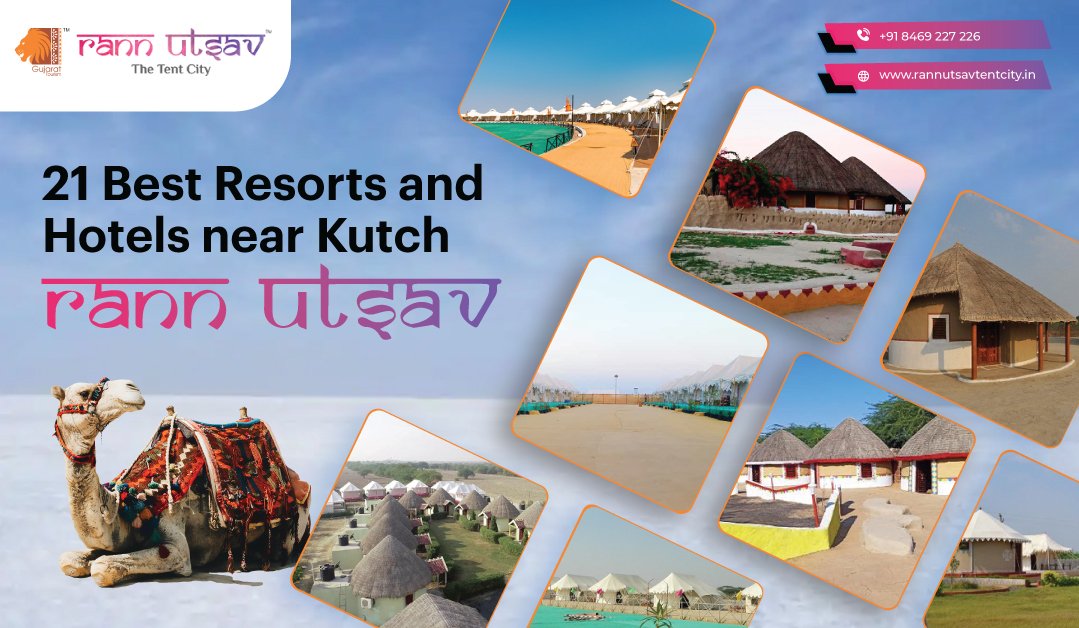 Kutch's elegance is its massive white salt desert and the wealthy cultural belief. It has numerous elegant and huge towns living within. The Kutchi are recognized for their wide hospitality and key artistry attractions. Kutch Rann Utsav grows to be a big spot to visit during the winters. And if your vacation outlet is the same, don't miss out on these lifestyle hotels near the kutch Rann Utsav for your pleasant stay. The beautiful resorts will ultimately reach you into a concept of living of your preference.
There is quite an occasional spot in and around Kutch Rann Utsav. Few of these comprise Gandhidham, Mandvi, Bhuj, and beaches lining the glorious Arabian Sea. Hotel near white Rann of Kutch that attracts many tourists. We are here to give you memorable experiences. There have been multiple alternatives; when tourists are scheduling for Kutch landscaped hotels with outstanding luxuries will be your preferred means to make a travel experience across the Rann Utsav. Following are the best-known hotels to relive at Rann Utsav.
Hotels near Kutch Rann Utsav
Rann Utsav Tent City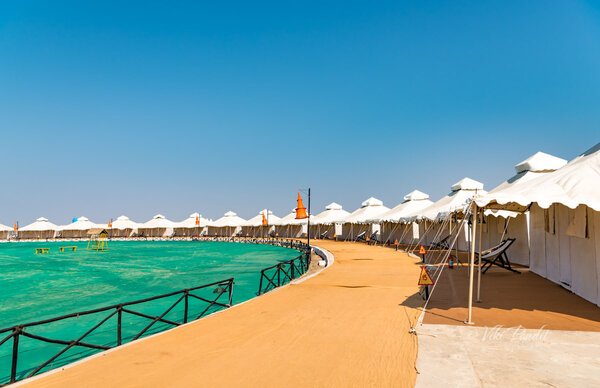 Google Ratings:
4.5 / 5
Location:
Dhordo Village, Kutch, Gujarat, India – 393151
Amenities:
Twin Bed, Spacious Front Porch, Attached Bathroom, Luxury Toiletries, High-Speed Fan
Price:
Starts from ₹4,149/- onwards
Distance from Rann Utsav:
1.1 Kms
White Rann Resort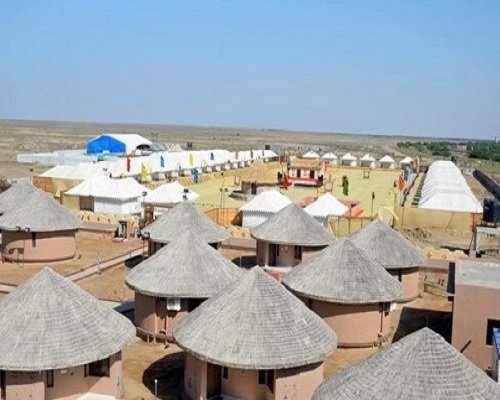 Google Ratings:
4.5 / 5
Location:
Dhordo, Kutch, Gujarat 370510
Amenities:
Free breakfast, Free parking, Accessible, Air-conditioned, Laundry service, Business centre
Price:
Starts from ₹7,500/Couple
Distance from Rann Utsav:
1.1 Kms
Kutch Yatra Resort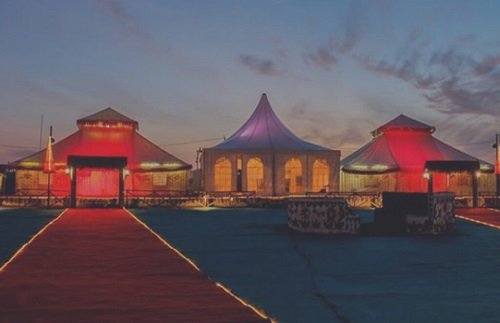 Google Ratings:
3.4 / 5
Location:
White Dessert Rd, Dhordo, Gujarat 370510
Amenities:
Free WiFi, Parking included, Room service, Housekeeping, 24/7 front desk, Babysitting
Price:
Starts from ₹4,000/- onwards
Distance from Rann Utsav:
1.4 Kms
Gateway to Rann Resort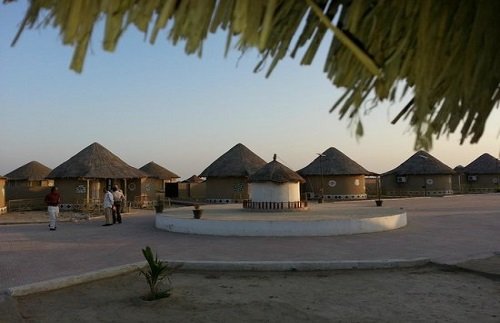 Google Ratings:
4.4 / 5
Location:
QGW4+M44, White Dessert Road, opp. to Rann Utsav Tent City, Dhordo, Gujarat 370510
Amenities:
Free breakfast, Free parking, Air-conditioned, Laundry service, Child friendly, Restaurant
Price:
Starts from ₹4,000/- onwards
Distance from Rann Utsav:
1 Kms
Toran Rann Resort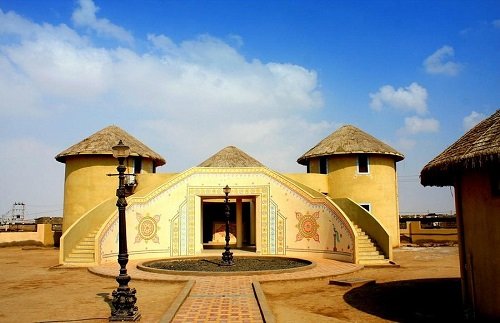 Google Ratings:
4.2 / 5
Location:
Dhordo, Gorewali, Bhuj, Gujarat 370510
Amenities:
Air Condition, LED Television, Attached Bathroom with Hot/Cold Water, Open Parking Space, Traditional style dining
Price:
Starts from ₹4,500/- onwards
Distance from Rann Utsav:
1.1 Kms
Kutch has a fantastic landscape, spellbound cultural traits, and awe heritage.
So, get ready to explore this fantastic destination and glance at the most enticing attractions of the Kutch.
Great Rann Of Kutch
Kalo Dungar
Kandla Port
Mandvi Beach
Siyot Caves
Aina Mahal
Marine National Park
Vijay Villas Palace
Narayan Sarovar
Lakhpat Fort
Great Rann Of Kutch
The white desert of Kutch with sand and salt – a spellbound marvel of nature – has the Thar Desert on one side and the Arabian Sea on the other side. The Rann of Kutch is the most attractive place among the other attractions in the Kutch. The white desert turns into a fairyland on full moon nights when the white light of the moon reflects through the white particles of the desert. You can witness the joy by exploring the places to stay near Rann of kutch. Nature lover tourists and culture enthusiasts visit the white desert during Rann Utsav. The best time to visit Kutch is in winter. You could never miss out to enjoy the Rann Mahotsav, camel safari and camping in tents.
Kalo Dungar
Kalo Dungar is the top pick of the Kutch and has a magnificent view of the entire region. You can have a bird's eye view of the Rann and the Indo-Pak border from here.
You can access the place by bus or jeep from Khavda. This highland is the most popular tourist place, and professionals and experts would love to hike.
You will feel blessed when you visit the 400 years old temple of Dattatreya on Kala Dungar. People have faith that all their wishes will be satisfied with the darshan of Lord Dattatreya and the three-headed incarnation of Lord Brahma, Lord Vishnu and Lord Mahesh.
Kandla Port
Kandla Port is one of the major ports on the west coast and is famous for its rich history. It is situated near the Gulf of Kutch and actively trades textiles, salt, iron, petroleum, chemicals, and food grains.
It is one of the best tourist attractions in Kutch. You can explore the operation of commercial vessels and panoramic views of the Gulf.
Mandvi Beach
The most popular beach destination of Kutch is Mandvi. It offers a great view of the shoreline and the clean and tranquil sea – a perfect place for your weekend getaway. You can enjoy the horse and camel ride on the shore. Visiting Vijay Vilas Palace, located by the beach, will give you a mesmerising experience.
Siyot Caves
The ancient caves of the Siyot are as old as they date back to the first century AD.
The paintings and folklore of the cave carvings and sculptures expressed historical events like the Chinese migration to India. They are great attractions for tourists and history enthusiasts across the world.
Aaina Mahal
The Palace of Mirror – well known as Aaina Mahal, is the spectacular attraction of Kutch. The palace comprises various mirror works such as Venetian glass, marbles, mirrors connected by sprinkled jewellery and reflective lighting.
The artwork reflects Indian and European designs. The palace showcases antique pictures, mechanical toys and sculptures.
You can also explore the Pleasure Pool, Dutch Clock and English and French globes over here.
Marine National Park
The first marine reserve of India, Marine National Park, is located on the southern coast of Kutch.
It has swampy tracts, saline grasslands, shores with rocky outcrops, estuaries, and mud beds.
You can explore marine organisms such as phalaropes, gulls, kingfishers, osprey, avocets, gangetic dolphins, painted stork, giant crabs, beluga whales and giant turtles.
Vijay Villas Palace
The Maharaos of Kutch were spending their summer at Vijay Vilas Palace in the 1940s. You can witness exquisite stonework built in an Indo-European style. It owns a private beach.
You can plan a stay in hotels near Mandvi beach in tented resort accommodation. The accommodations have modern amenities such as wooden furniture, modern bathrooms, patio and thatched open-sided restaurant.
Other attractions are volleyball court, deck chairs and shady sitting arrangements and barbeque at the beachside.
Narayan Sarovar
According to the Puranas, there was a drought in the region. Sages prayed to Lord Vishnu. In response to the prayers, Lord Vishnu appeared and, when he touched the land with his toe, the Narayan Sarovar appeared.
Narayan Sarovar has great spiritual significance. It is considered a coveted place for a holy dip.
Lakhpat Fort
The Lakhpat town in Kutch has a 7 km long fort wall to guard it and the elegant Lakhpat Fort attracts many tourists. There are many famous tales associated with it. The giant structure of the fort built in the 18th century is very well-known for its uniqueness. It is the last village on the border of India.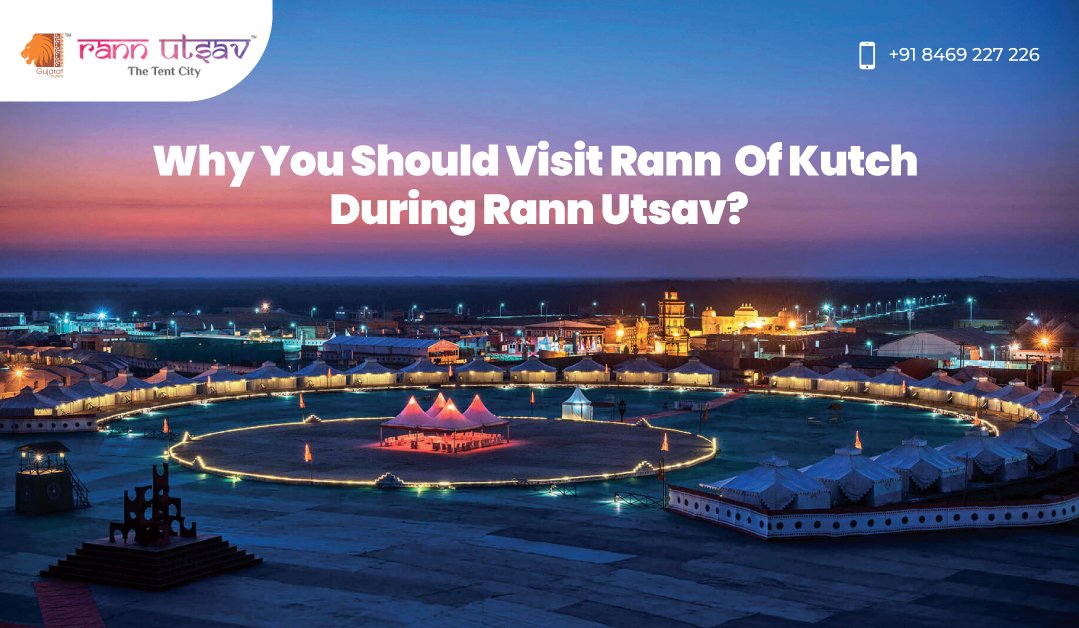 An initiative of Gujarat Tourism, the Rann Utsav, is the longest carnival to rejoice on the land of the Great Rann of Kutch. The Rann Utsav is the most awaited 3-month long cultural festival to celebrate the wonder of nature at the White Desert and the heritage of Kutch.
The Rann Utsav is a magnificent cultural festival with natural beauty and glory, to enjoy camel rides on the seashores, cultural actions, folks dance performances, shopping spots, outside actions and varied tent lodging and much more. It is perfectly said, "Kutch Nahi Dekha to Kuch Nahi Dekha " by Shri Amitabh Bachchan.
Reason to Visit Kutch Rann Utsav
The Rann of Kutch is famous for its serene beauty of nature and magical night. If you wish to experience the magic, get a rann utsav tent city booking to spend the night at the Rann gazing at the star-filled sky from the White Desert. Watch Sunrise that brightens up the place. The sky filled with vibrant colours orange, purple, pink and red to decorate sunset time.
When Does The Rann Utsav Start?
The official dates announced to enjoy the marvel of Rann Utsav, with folk music, dance and authentic food with tented accommodations, are from 1st November 2022 to 20th February 2023.
Vision Of Rann Utsav
The traditional culture of the Kutch and the natural formation of the White Desert Rann Utsav is an event to celebrate. The entire concept was visioned and designed by Shri Narendra Modi, was Chief Minister of Gujarat and current Prime Minister.
The Venue Of Rann Utsav
The Rann Utsav is celebrated every year at the Great Rann Of Kutch, located in the western state of India, Gujarat.
Things To Do At The Rann Utsav
Witness the Full Moon Night
Get rann of kutch trip cost to visit the Rann Utsav during the full-moon night. You can enjoy dining under the stars and moonlight reflecting from the salt crystals.
An Aerial View of the Great Rann of Kutch
You can get an aerial view of the world's largest salt desert. You can enjoy the air balloon trip and the view from the top, to feel like a flying bird.
Enjoy the Best Outdoor activities and Adventure.
The outdoor activities to participate in are, Stargazing, Paintball, Trikke driving, exploring the place by a segway, and camel ride. Adventure activities such as paramotoring, ATV imply machine using, rifle taking pictures, archery, bicycle ride, and many more will refresh you thoroughly.
The area across the white desert has white sea beaches and seashores. You can enjoy a camel ride, horse ride, water sports activities and Kutchi Dabeli at Mandvi seaside.
Learn and explore Kutchi Art and Crafts
Surrounding villages are well known for their beautiful clothes and textiles. You can see the whole process of the textile business. You can buy handlooms and handicrafts at the cheapest costs. You can learn to make art and craft by attending workshops set up and conducted by proficient artists of the villages.
Visit the Prag Mahal and Aaina Mahal.
Prag Mahal and Aaina Mahal were preserved for centuries and even after the earthquake. Prag Mahal has great carving, jaali work and marvellous architecture. Aaina Mahal is architectured with shining glass, clean tiles and aesthetic antiques. Aaina means glass, and it seems like a dream palace.
Taste the Kutchi cuisine and Winter foods
India is known for its hospitality. Kutch is incredible to experience the winter recipes. You can enjoy meal stalls that provide meals round the clock.
Kutchi work is very much famous for its uniqueness. Kutch markets are famous for traditional Ghagra, Choli, Kurtis, Mojris, Bandhani Sarees, Dupatta, Shawls with mirror work, Copper bells and Rogan artwork.
Conclusion
The White Desert is a historical and cultural place called the heaven of Kutch. Sunset is a delight to photographers, nature lovers and honeymooners, while sky colours reflect through salt crystals.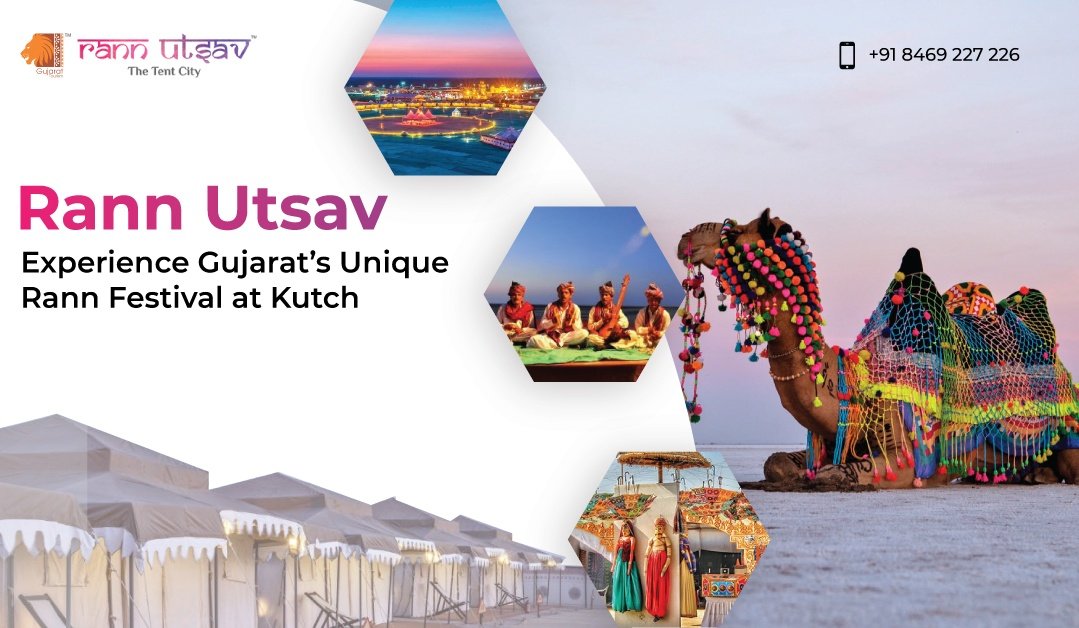 The Rann Utsav is India's most unique cultural festival to explore folk songs, dance and beauty of the White Desert. The official dates announced to enjoy the marvel of Rann Utsav are from 1st November 2022 to 20th February 2023.
Explore the Kutch and the White Rann of Kutch
Kutch is known for handicrafts, hills, white deserts, beautiful virgin sea beaches and various forts. Dholavira is one of the five largest Harappan sites. It is among the most prominent archaeological sites in India, belonging to the Indus Valley Civilization.
Rann of Kutch is the world's largest salt desert and a beautiful tourist destination. The Rann Utsav was started in the year 2005 by the honourable chief minister of Gujarat, Shri Narendra Modi, with the vision to display and honour the traditions and culture of Kutch Gujarat to India and the foreign nations. Earlier it was celebrated for five days in November. But later it was changed to three months.
The white desert is the wonder of nature. During the rainy season, this sand desert hides under the water and, for the remaining months, it shows its beauty. This festival is a great thing to do in Gujarat to celebrate once in your lifetime.
Rann Utsav 2022-2023 Dates & Venue
The Rann Utsav festival is organized and managed, by Gujarat Tourism, in the winter in the cool breeze when the moon is shining to the fullest. You can experience the camel safari during the moonlight. You can enjoy the walk in the early morning or late evening.
There are the best arrangements for food, stay, transportations, shopping and other cultural programs. The entire region of the White desert is well-managed to celebrate the festival of crafts, arts and the rich cultural heritage of Gujarat. You can book kutch rann utsav tour packages as this year Rann Utsav starts from 1st November 2022 to 20th February 2023.
Rann Utsav is organized in the Dhordo village in Kutch. You can easily reach this village from Bhuj as it takes only half an hour from here. Bhuj has an airport and railway station. Dhordo is only 85 km from Bhuj.
Rann Utsav 2022-2023 Packages
Rann Utsav is very well organized in all aspects. It provides great staying arrangements with all modern amenities at Tent City. Tent City is spread across 5,00,000 Sq meters. Your package includes :
Pickup from Bhuj [Railway Station / Airport] to Dhordo Tent City.
Drop off from Dhordo to Bhuj [Railway Station/Airport].
Complimentary refreshments will be served enroute Dhordo Tent City in the bus.
Lunch, High-Tea & Dinner on 1st Day, Morning Tea, Breakfast, Lunch, High-Tea & Dinner on 2nd & 3rd Day and Morning Tea & Breakfast on 4th Day. Facilities available subject to the package selection.
Accommodation in Tent is on a twin sharing basis.
Two bottles of drinking water per day per tent.
Complimentary sightseeing
How to Reach?
Bhuj is the nearest city to the Rann of Kutch, which is well connected with the rest of India by air and rail. Those having Rann Utsav packages will be facilitated, with transfers from Bhuj airport or railway station to the White Rann Resort.
The nearest Airport to Rann Utsav is Bhuj airport. It is well-connected with other cities of India and has regular flights. From here, you can hire autos or taxis or buses to reach the White desert in Dhordo village.
You can hire private taxis or drive your car to Kutch. The best route is through National Highway 8A. There is the option of public transport buses available from Gujarat and Rajasthan to get here.
Alternatively, one can also board a train from their relevant destination to reach Bhuj. From Bhuj, you can hire taxis, buses or autos to RannUtsav camp.
Where to Stay?
Dhordo village is referred to as the tent city of Gujarat. There are 400 AC and non-AC rooms. You can select from the Luxury or Swiss tents. There is an option to stay in the mud bungalows called Bhungas, with all modern amenities. These bungalows are set up especially for the Rann Utsav. The tents and the bhungas are thoughtfully designed traditionally, representing the culture of Kutch.
Accommodation Options
There are several accommodation options such as luxury tents, swiss tents or bhunga. It consists of a multi-cuisine restaurant, swimming pool, kids' play zone, library, indoor games like table tennis, board games, badminton court etc.
Places to Visit Near By Rann Utsav Festival
Kutch rann utsav accommodation facilitates you, with a stay, at the White Rann tent city close to the Rann. There are several temples, museums, beaches and palaces that are worth a visit. You can visit the Indo-Pak border, which is just nearby.
Beach Experience at Mandvi
Mandvi beach near Vijay Vilas Palace is the most beautiful and scenic seashore. You can enjoy a camel ride, horse ride, walk during sunrise and sunset, sipping coconut water and mouth-watering local food. You can be thrilled with water sports like parasailing, jet skiing, water scooter, banana boat ride.
There are ten small clean and tidy luxurious tents near Vijay Vilas Palace if you wish to stay in the less crowded area. You can enjoy bird watching, play football or volleyball near the beach, indoor games and lakeside picnics.
You can visit many tourist places in Bhuj city, such as Bhujiyo Hill, Aaina Mahal, Hamirsar Lake, Prag Mahal, Shree Swaminarayan Temple and the Chhatardi. There are many shopping places in Bhuj, known for its traditional & local items.
Conclusion
Kutch Rann Utsav is a rich cultural carnival that has something for everyone. You can discover local handicrafts, embroidery, terracotta, block-printing, wood carving, Kutchi folk songs and dances, mouth-watering food, camel safari, horse ride, ATV rides to hot air balloon rides and bird watching.